OBATA Takeshi
小畑健

Genre: Homme
Né(e): 11 février 1969 / Nîgata (Nîgata)
Signe: Verseau
Groupe sanguin: AB
Pseudo connu: 小畑健 (KOBATAKE Ken)
Origine: Japon
En 1985, à l'age de 16 ans, il envoie une histoire courte intitulé 500 Kounen no Shinwa à la maison d'édition Shueisha et remporte un prix Tezuka qui récompense tous les nouveaux talents. Il travaille ensuite comme assistant auprès d'un mangaka nommé Makoto Niwano.puis aux côtés de Nobuhiro Watsuki (le créateur de la série Kenshin le Vagabond), il se spécialise comme dessinateur. Très vite Obata connaît le succès, avec notamment la série Hikaru no Go, manga mettant en scène le traditionnel jeu de Go sur un scénario de Yumi Hotta. Il obtient le prix du meilleur espoir des Tezuka Awards en 2003 pour ce manga scénarisé par Yumi Hotta.
Puis, avec Tsugumi Oba au scénario, Obata se consacre à Death Note, série qui paraît au Japon en 12 volumes et 108 chapitres dans le Weekly Shonen Jump (entre 2003 et 2006). Death Note a été adaptée en série animée (37 épisodes produits par Madhouse et diffusés depuis 2006 au Japon)… mais aussi pour le grand écran avec deux films « live » : Death Note et Death Note 2 : The Last Name.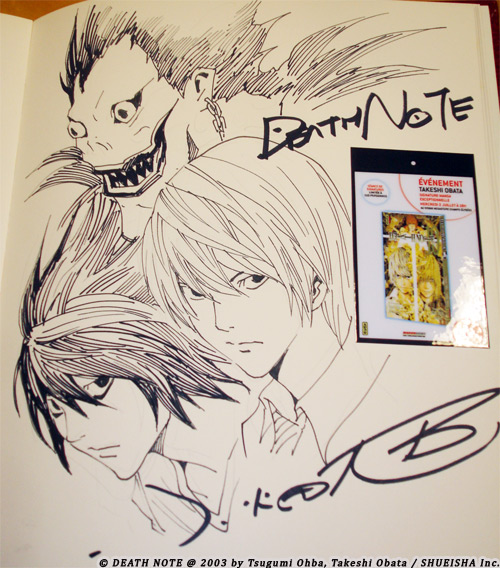 L'auteur était l'invité d'honneur des éditions Kana lors du 9e Japan Expo en juillet 2008.

Enigma
D'où vient cette réplique ?
J'ai bien été obligée... de me faire une raison. Je suis toujours amoureuse...
[ Voir la réponse ]
Copyrights © 2012 manga-news.com | All rights reserved
All pictures and illustrations are under © Copyright
Manga-News is an online portal, providing reviews and news about manga and dvd
Don't contact us about refund of manga / dvd, about scantrad, fansub and streaming.