YONEBAYASHI Hiromasa
米林 宏昌
Genre: Homme
Né(e): Juillet 1973 / Ishikawa (Nonoichi)
Pseudo connu: Maro
Origine: Japon
Hiromasa Yonebayashi (米林・宏昌) est un intervalliste, animateur et réalisateur japonais. Né en juillet 1973 dans la préfecture d'Ishikawa, à Nonoichi, il a fait des études de design puis rentre dans le prestigieux Studio Ghibli en 1996.

Engagé en tant qu'intervalliste, il participe à plusieurs films du studio et devient même l'animateur principal sur Le voyage de Chihiro (2001).

Il évolue encore en 2006, avec Les contes de Terremer où il est co-directeur d'animation. Participant actif à plusieurs autres œuvres du studio, et notamment des courts métrages, on le retient plus récemment pour avoir réalisé la fameuse scène où Ponyo court sur les flots déchainés ... Un moment assez mythique dans l'histoire de l'animation.
Il réaliste pourtant, son premier long-métrage, sur un scénario écrit par Hayao Miyazaki, avec Arriety et le monde des petits chapardeurs ...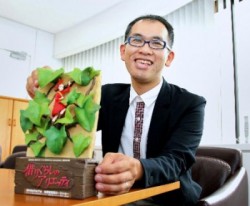 Copyrights © 2012 manga-news.com | All rights reserved
All pictures and illustrations are under © Copyright
Manga-News is an online portal, providing reviews and news about manga and dvd
Don't contact us about refund of manga / dvd, about scantrad, fansub and streaming.