News

Japon

Fin de Boku to Kanojo no XXX

C'est dans le 3eme tome de Kirara no Hoshi, en vente depuis aujourd'hui, qu'on apprend que Boku to Kanojo no XXX, le manga de Ai Morinaga, se terminera dans le Gekkan Comic Avarus #09, en vente le 12 août prochain. Le 8ème et dernier tome sortira le 15 novembre. La série fût adaptée en mini drama de 7 épisode en 2005.

Le manga fût publié en premier de février 2001 à novembre 2001 dans le magazine Gekkan Stencil des éditions Square Enix. Par la suite il fût transféré dans le Comic Blade de Mag Garden, de mars 2002 à septembre 2007. Pour finir la série repris en octobre 2007 dans le Gekkan Comic Avarus, dans lequel celle-ci est publié à un rythme bimestrielle.

La belle lycéenne Nanako Momoi que tout le monde trouve adorable, est en fait une fille violente et plus proche de l'ours mal léché que de la délicate colombe. Akira est tombé amoureux d'elle mais n'ose se déclarer à cause de son caractère bien peu viril. Un jour, alors qu'il était venu lui apporter ses devoirs, Akira voit son corps échangé avec celui de Nanako par la faute du grand-père de la jeune fille. Comment vont-ils s'en sortir?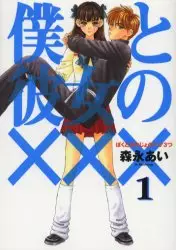 Enigma
D'où vient cette réplique ?
Jeu, set et match. Tape, tape, tape… tape la balle !
[ Voir la réponse ]