GE - Good Ending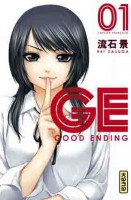 © Kei Sasuga / Kodansha Ltd.
Note des lecteurs
17.92

/20
Comment comprendre les filles quand on est un garçon pas très doué en relations humaines...
Synopsis:
Comment sortir de son mutisme et approcher la fille qui le fait craquer ? Comment se comporter lors d'un premier rendez-vous et surmonter sa timidité ? Seiji Utsumi se pose les questions que des générations d'adolescents se sont posées avant lui. Heureusement Yuki, la fille la plus populaire du lycée, donne un coup de pouce au destin. Qui de mieux pour Seiji qu'une lycéenne dont tout le monde rêve pour lui enseigne l'art de la séduction et conquérir, presque malgré lui, la fille de ses rêves ?
Highlight of the serie:
Pré-publié au Japon depuis 2009 dans le «Weekly Shônen Magazine» de l'éditeur Kodansha, la série GE Good Ending suit le quotidien du maladroit Seiji Utsumi, décidément peu doué avec les filles.
Dernières news du manga:
If you liked it...you should like this: