Event
Monaco Anime Game Show - 1ère édition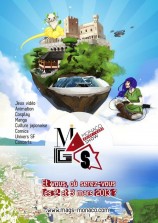 From 02 March To 03 March 2013 .


Monaco Anime Game Show - 1ère édition
20130302T140000Z
20130302T150000Z
Monaco Anime Game Show - 1ère édition - Monaco - Forum Grimaldi - N/C
Description
TGS EVENEMENTS, à qui l'on doit le Toulouse Game Show, et SHIBUYA INTERNATIONAL s'associent pour le lancement du MAGS MONACO ANIME GAME SHOW en Mars 2013.
Le principe du MAGS est de rassembler professionnels, associations et particuliers autours des thèmes du jeux vidéo, du manga et de l'anime, de la culture asiatique et de la science-fiction ... le tout avec de prestigieux invités.

Pour cette première édition, le MAGS s'installe au Forum Grimaldi, un lieu unique entre mer et montagne aux portes de l'Italie. Un espace total de 15 000m² avec plusieurs salles, amphithéâtres ... Un grand restaurant/bar avec terrasse est à la disposition de la clientèle avec vu panoramique.
Le MAGS occupera pour cette première édition l'espace Ravel et un amphithéâtre de 800 places.Il sera le premier salon à offrir un véritable jardin japonais de 7000 m² juste à ses portes où se déroulera de nombreuses animations et initiations sous le soleil monégasque.
Plus qu'un weekend dans un salon, cela représentera pour beaucoup l'occasion de passer un weekend vacances dans un magnifique décor, inhabituel, qualitatif avec tous les avantages et le programme d'un grand salon. Les visiteurs et cosplayers pourront se balader sur la promenade de bord de mer ainsi qu'au jardin japonais en toute tranquillité et rapporter des photos souvenir tel qu'ils n'en auront dans aucun autre évènement.
Pendant 2 jours, Monaco, regroupera les plus grandes personnalités du monde des jeux vidéo, de l'animation, des mangas, de la science fiction et des web séries.

Invités :
- Gô Nagai, célèbre mangaka à qui l'on doit Goldorak, Devilman, Cutie Honey,...
- Michel Ocelot, réalisateur français (Kirikou, Azur et Asmar)
- William B. Davis, acteur (X-Files)
- Michael Hogan, acteur (Battlestar Galactica)
- Patrick Moya, artiste et infographiste
- Sweetie Chocolate, groupe français de "Rock Kawaii"
- Akino Arai, auteure, compositrice et interprète japonaise
- Les acteurs de NOOB, de la Flander's Company et de Saturday Man
- Davy Mourier et Monsieur Poulpe, acteurs et animateurs (Nolife)
- Le Joueur du Grenier et Bob Lennon


Horaires :
Du samedi 2 au dimanche 3 mars, de 10h à 19h

Tarifs :
- Une journée : 12 euros
- Deux jours : 20 euros
- Pass Express : 40 euros(accès libre au festival, entrée une heure à l'avance, coupe files)
- Entrée VIP : 100 euros (même avantages que pass Express avec des avantages qui seront annoncés prochainement tel que des cadeaux, un espace dédié open bar,...)

Forum Grimaldi
10, Avenue Princesse Grace
MC 98000 Monaco
Plan
Enigma
D'où vient cette réplique ?
« Dis petite... Ton portable... C'est celui en or, ou bien celui en argent? »
[ Voir la réponse ]
Copyrights © 2012 manga-news.com | All rights reserved
All pictures and illustrations are under © Copyright
Manga-News is an online portal, providing reviews and news about manga and dvd
Don't contact us about refund of manga / dvd, about scantrad, fansub and streaming.