Event
Paris Manga & Sci-Fi Show - 15ème édition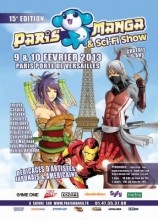 From 09 Febuary To 10 Febuary 2013 .


Paris Manga & Sci-Fi Show - 15ème
20130209T140000Z
20130209T150000Z
Paris Manga & Sci-Fi Show - 15ème édition - Paris - Porte de Versailles - 75
Description
9PARIS MANGA & Sci-Fi Show accueille deux fois par an et sur plus de 17.000 m², l'évènement parisien majeur des cultures manga et Sci-Fi. Avec plus de 150.000 visiteurs attendus chaque année, PARIS MANGA & Sci-Fi Show est le rendez-vous incontournable de tous les passionnés, les amateurs et les professionnels du manga, de la culture asiatique, des jeux vidéo, des séries TV, du cinéma et du comics. C'est aussi l'occasion pour le grand public de découvrir de nouveaux univers dans une ambiance chaleureuse et conviviale.

Lors de cette nouvelle édition, petits et grands découvriront, seuls ou en familles, les nouvelles activités et animations, les nombreux stands boutiques et éditeurs et pourront bien entendu rencontrer de prestigieux invités venus du monde entier.

Invités :
- Takahiro Komori, animateur (City Hunter, Vision d'Escaflowne, Lodoss,..)
- Tensai Okamura, réalisateur d'animes (Yawara!, Cowboy Bebop, Neon Genesis Evangelion, Wolf's Rain,...)
- Bob Layton, dessinateur de comics (Iron Man, Hulk, Captain America,...)
- Moon Stream, duo de chanteurs japonais (Visual Kei/Rock)


Horaires :
Samedi 9 février et Dimanche 10 février de 10h30 à 19h
Entrée à 8h30 pour les billets VIP et à 9h30 pour les préventes

Tarifs :
Sur place : 11€ la journée - 20€ pour les deux jours
En prévente : 10.50€ la journée - 19€ pour les deux jours
Billets VIP : 45 euros


Paris Porte de versailles, Hall 2.1,
1 place de la Porte de Versailles
75015 Paris
Plan
Copyrights © 2012 manga-news.com | All rights reserved
All pictures and illustrations are under © Copyright
Manga-News is an online portal, providing reviews and news about manga and dvd
Don't contact us about refund of manga / dvd, about scantrad, fansub and streaming.