Event
Festival d'Angoulême 2013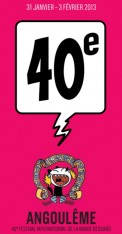 From 31 January To 03 Febuary 2013 .


Festival d'Angoulême 2013
20130131T140000Z
20130131T150000Z
Festival d'Angoulême 2013 - Angoulême - 16
Description
Depuis maintenant quatre décennies, le Festival d'Angoulême célèbre sous toutes ses formes la création en bande dessinée. Et tient plus que jamais à conforter le 9e art comme l'une des expressions les plus passionnantes du monde d'aujourd'hui.
Alors, pour cette édition anniversaire, le grand rendez-vous de la bande dessinée veut être un moment de fête qu'on n'oubliera pas de sitôt. Expositions, spectacles, rencontres, animations, événements et exclusivités… : en famille ou entre amis, venez retrouver la bande dessinée dans tous ses états !

Horaires :
Le Festival est ouvert de 10h à 19h tous les jours, nocturne le samedi jusqu'à 20h (sauf Quartier Jeunesse et Pavillon Jeunes Talents® - fermeture à 19h)

Tarifs :
- Préventes 1 jour : 14€ (+18 ans) - 11€ (10-17 ans)
- Préventes 4 jours : 30€ (+18 ans) - 24€ (10-17 ans)
- Achat sur place 1 jour : 15€ (tarif unique +10 ans)
- Achat sur place 4 jours : 33€ (tarif unique +10 ans)
- Entrée gratuite (-10 ans)
Plan
Enigma
D'où vient cette réplique ?
"Une prêtresse avec un probleme de mec a le droit de se prendre une cuite"
[ Voir la réponse ]
Copyrights © 2012 manga-news.com | All rights reserved
All pictures and illustrations are under © Copyright
Manga-News is an online portal, providing reviews and news about manga and dvd
Don't contact us about refund of manga / dvd, about scantrad, fansub and streaming.