Event
Expo " Emmanuel Guibert, Japonais" à Landerneau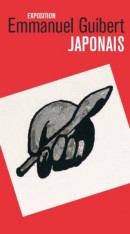 From 26 January To 16 March 2013 .


Expo " Emmanuel Guibert,
20130126T140000Z
20130126T150000Z
Expo " Emmanuel Guibert, Japonais" à Landerneau - Landerneau - Médiathèque Per-Jakez Helias - 29
Description
La Ville de Landerneau accueillera, du 26 janvier au 16 mars 2013, à la médiathèque Per-Jakez Helias, l'exposition de l'auteur à succès de bandes dessinées Emmanuel Guibert. L'exposition Emmanuel Guibert, Japonais fait suite à un ouvrage que le dessinateur avait réalisé en 2008, après un voyage de plusieurs mois à Kyoto au Japon, mais fait aussi référence à l'année du Japon en Bretagne qui se termine actuellement.

Pendant deux mois, la médiathèque Per-Jakez Helias de Landerneau vivra au rythme de ce pays envoutant et sera complètement réorganisée autour d'un jardin zen en son milieu. L'artiste présentera une soixantaine d'originaux multi-supports : lavis, cahiers, peintures, lithographies, papiers de riz par lesquels il nous révèlera son imprégnation du Japon, au travers de portraits, de paysages, de croquis. Pour compléter cette exposition, de nombreux rendez-vous seront proposés au public autour du Japon pendant cette période. (Communiqué de presse plus détaillé en pièce jointe).


Médiathèque Per Jakez Helias
Rue de la Petite Palud
29800 Landerneau
Plan
Enigma
D'où vient cette réplique ?
C'est vrai que je n'ai pas besoin d'utiliser la magie ici. Je devrais m'en abstenir pour ne pas risquer d'être vue. Mais la magie a ce pouvoir de faire mon bonheur et celui des gens.
[ Voir la réponse ]
Copyrights © 2012 manga-news.com | All rights reserved
All pictures and illustrations are under © Copyright
Manga-News is an online portal, providing reviews and news about manga and dvd
Don't contact us about refund of manga / dvd, about scantrad, fansub and streaming.