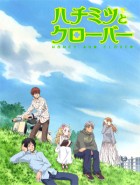 Title JP: ハチミツとクローバー
Translated title: Hachimitsu to clover
Writer: UMINO Chica
Character Designer: SHIMAMURA Hidekazu
Réalisateur: KASAI Kenichi
Type: VOD
Publisher: Kaze
Release date: 30 March 2010
DVD_ORIGINE: Japon - 2005
Language: vostf
Number of episode(s): 0
For mature public: non
© by 2010. Fuji TV / Kaze
Yûta Takemoto, un garçon un peu mou qui ne sait pas vraiment ce qu'il veut faire dans la vie, est étudiant en première année dans une école d'art renommée. Il loge dans une pension vieillotte où il fait la connaissance d'une bande de copains, étudiants en arts comme lui. Hagumi Hanamoto, jeune fille naïve à l'allure enfantine, fait son entrée dans la même école d'art. Elle habite dans l'immeuble de son oncle, professeur dans cette école. Takemoto et Morita, ses compagnons de classe vont vite tomber sous le charme de cette jeune fille à la personnalité très attachante.
Hagumi, malgré sa candeur, se révèlera être très douée dans sa discipline et bien décidée à découvrir le monde ! Quant à Takemoto, nous le verrons mûrir au cours des différentes épreuves qu'il traverse.
Highlight of the dvd:
Adaptation du manga de Umino Chica, la série s'est déclinée en 2 séries TV la première produite en 2005 compte 24 épisodes, la seconde quant à elle est réalisée en 2006 et compte 12 épisodes. A cela s'ajoute 2 TV spéciaux de 23min produits en 2005 et 2006....