Sommet des Dieux (le) - Edition Cartonnée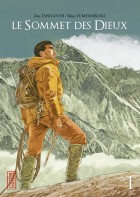 © Jiro TANIGUCHI © Baku YUMEKURA
Note des lecteurs
19.75

/20
La passion de la montagne est le leitmotiv de cette formidable aventure humaine !
Dans une petite boutique népalaise, Fukamachi tombe sur un appareil photo qui pourrait bien être celui de George Mallory, le célèbre alpiniste qui fut le premier à essayer de vaincre l'Everest. Mallory disparût avec Andrew Irvine, lors de cette ascension en 1924, sans que l'on puisse savoir s'ils sont parvenus au sommet. Et si c'était seulement lors du chemin du retour qu'ils avaient eu cet accident fatal? Cela changerait l'histoire de l'alpinisme! C'est sur cette passionnante question que s'ouvre le chemin initiatique de Fukamachi qui sera amené à faire la rencontre de figures hautes en couleurs.

Retrouvez dans cette toute nouvelle édition cartonnée la magnifique série en cinq tomes qui valut à Jirô Taniguchi de recevoir le prix du meilleur dessin au festival d'Angoulême (2005) ! À travers le regard et les souvenirs du héros-photographe Fukamachi, le lecteur pénètre dans un monde à part où cohabitent la dure loi de la montagne et la folle passion des hommes.
Highlight of the serie:
L'histoire du "Sommet des Dieux" est adaptée d'un roman très célèbre au Japon, écrit par Yumemakura Baku. Taniguchi rêvait de pouvoir le transposer en manga!

Entre poésie, action et suspense, ce manga nous emmène très loin au cœur de l'Himalaya.
Une édition de luxe avec une couverture cartonnée, une jaquette et un signet en tissu.
Additional Info:
Prix du meilleur dessin au festival d'Angoulème en 2005
Les tomes sont préfacés par Muriel Barbery, l'auteure de L'Élégance du hérisson, grande fan de Jirô Taniguchi.
If you liked it...you should like this:
Enigma
D'où vient cette réplique ?
Surpasse ta peur, regarde vers l'avant, avance et tu vivras, hésite et tu mourras!
[ Voir la réponse ]