Rose de Versailles (la) - Edition 2011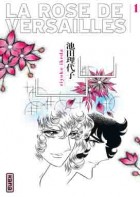 VERSAILLES NO BARA © 1972 IKEDA RIYOKO PRODUCTION / SHUEISHA Inc.
Note des lecteurs
15.83

/20
Un manga révolutionnaire ...
À la veille de la révolution française la dauphine Marie-Antoinette, promise au futur roi de France Louis XVI, est protégée à tout instant par le capitaine de la garde royale : Oscar François de Jarjayes. Oscar est une fille élevée comme un garçon et devenu un soldat tradition familiale. Marie-Antoinette, Oscar et le beau gentilhomme Axel de Fersen ont tous trois 18 ans, leur rencontre va bouleverser leur existence dans cette période qui marquera à jamais le destin de la France !


Une réédition avec de nouvelles couvertures qui nous permet de constater que l'émotion est restée intacte: du romantisme, de la tragédie, une période de l'Histoire de France que le monde entier connaît...
Highlight of the serie:
Il y a près de 40 ans Riyoko Ikeda donnait naissance au manga qui a donné envie à des milliers d adolescents de se plonger dans l'histoire de la Révolution Française. Aujourd'hui encore, il est considéré comme le "manga pour jeunes filles" par excellence. Il marqua toute une génération, il bénéficia d'une popularité immédiate, et celle-ci est incroyablement stable depuis 30 ans. Pour beaucoup de Japonaises, le premier contact avec la France et sa culture se fit par l'intermédiaire du manga "Versailles no Bara". Il suffit, pour s'en convaincre, de se rendre au Château de Versailles et de poser simplement, aux visiteuses japonaises, la question suivante: "Connaissez-vous Oscar François de Jarjayes?". Vous aurez certainement droit à la réponse: "Oui, mais je préfère André.".
Certains Japonais vont même jusqu'à dire que les classes de cours de français ne seraient pas composées à 90% de jeunes filles, si Riyoko Ikeda n'avait pas écrit ce manga!

Additional Info:
Au Japon, le manga fut publié pendant 82 semaines: du printemps 1972 à l'automne 1973.


Six ans après la fin de la parution du manga "Versailles no Bara", le dessin animé éponyme fut diffusé sur la chaîne Nihon TV, du 10 octobre 1979 au 3 septembre 1980: 40 épisodes passionnants, qui renforcèrent la popularité des amoureux révolutionnaires.


En 2010, ce manga a était mis en avant lors de l'exposition de Maki Murakami au Château de Versailles


If you liked it...you should like this:
Evolution des notes des volumes selon les chroniques:
Reviews of the volumes:
Enigma
D'où vient cette réplique ?
Pour parler clairement ... Tu nous trompais donc tous les deux et en même temps ...
[ Voir la réponse ]