One piece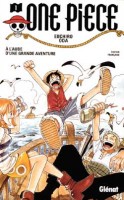 ONE PIECE © 1997 by Eiichiro Oda / SHUEISHA Inc.
Note des lecteurs
17.25

/20
Nous sommes à l'ère des pirates ! Luffy, un garçon espiègle, rêve de devenir le roi des pirates en trouvant le «One Piece», un fabu- leux et mystérieux trésor. Mais, par mégarde, Luffy a avalé un jour un «fruit magique du démon» qui l'a transformé en homme caout- chouc. Depuis, il est capable de contorsionner son corps élastique dans tous les sens, mais il a perdu la faculté de nager, le comble pour un pirate ! Au fil d'aventures toujours plus rocambo- lesques et de rencontres fortuites, Luffy va progressivement compo- ser son équipage et multiplier les amitiés avec les peuples qu'il découvre, tout en affrontant de redoutables ennemis.
Highlight of the serie:
Action, humour, aventures, magie, tous les ingrédients sont ici réunis pour une immense saga, passionnante et hilarante, qui ravit tous les publics.

Depuis janvier 2011 One piece est devenu le manga le plus vendu en France devant Naruto.

Additional Info:
Depuis le début de sa parution dans le Weekly Shonen Jump en 1997, One Piece est devenu l'un des manga les plus populaires de l'histoire. Jusqu'à aujourd'hui, plus de 150 000 000 de volumes ont été vendus au Japon. La série TV d'animation qui en fut tirée remporte elle aussi un franc succès. Des jeux vidéo pour PSP, Nintendo DS, Wii connaissent la même destinée. Depuis l'an 2000, des longs métrages animés sont régulièrement proposés au public.
Série élue meilleur shonen de l'année 2008 au Japan Expo Awards
Aussi connu sous:
ワンピース
海贼王
航海王
วันพีซ
원피스
Budak Getah
If you liked it...you should like this:
Citations:
"DIS-MOI QUE TU VEUX VIVRE"
"Banane ou crocodile. c'est quoi la différence ? les 2 se mangent"
"Ce drapeau ne pliera pas devant toi, il est le symbole de convictions!!!"
"Un sabreur peut choisir de ne rien couper, mais il peut proteger ses amis!"
"Tu veux parier?!"
Enigma
D'où vient cette réplique ?
"Bah, désolé mais d'habitude en cas d'alerte on sonne la cloche..."
[ Voir la réponse ]