One piece - 1ère édition

Série stoppée et rééditée dans une nouvelle version dite "Édition originale", équivalente à l'édition japonaise.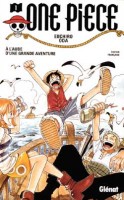 ONE PIECE © 1997 by Eiichiro Oda / SHUEISHA Inc.
Note des lecteurs
17.27

/20
Synopsis:
Nous sommes à l'ère des pirates ! Luffy, un garçon espiègle, rêve de devenir le roi des pirates en trouvant le «One Piece», un fabu- leux et mystérieux trésor. Mais, par mégarde, Luffy a avalé un jour un «fruit magique du démon» qui l'a transformé en homme caout- chouc. Depuis, il est capable de contorsionner son corps élastique dans tous les sens, mais il a perdu la faculté de nager, le comble pour un pirate ! Au fil d'aventures toujours plus rocambo- lesques et de rencontres fortuites, Luffy va progressivement compo- ser son équipage et multiplier les amitiés avec les peuples qu'il découvre, tout en affrontant de redoutables ennemis.
Highlight of the serie:
Action, humour, aventures, magie, tous les ingrédients sont ici réunis pour une immense saga, passionnante et hilarante, qui ravit tous les publics.
Depuis janvier 2011 One piece est devenu le manga le plus vendu en France devant Naruto.

Dernières news du manga:
Séries en relation:
If you liked it...you should like this: