Beck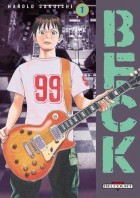 © 2001 Harold Sakuishi / Kodansha Ltd.
Note des lecteurs
18.24

/20
Entre rêves, déconvenues et coups d'éclat, la longue et chaotique ascension du plus surprenant des groupes de rock japonais et de son chanteur à la voix d'or !
Dans la vie, Yukio Tanaka (14 ans) est ce que l´on pourrait appeler un « looser ». Être la risée de toute la classe à cause de sa maladresse, être la victime de voyous à qui sa tête ne plaît pas... Tout cela fait partie de son quotidien. Un quotidien ennuyeux à mourir... jusqu´au jour où il rencontre un certain Ryûsuke Minami et son étrange chien, Beck. Ryûsuke a 16 ans, il a du succès avec les filles, il est sûr de lui et c´est surtout une « bête » en guitare. Grâce à lui, Yukio va peu à peu découvrir le monde de la musique et le monde de la musique va découvrir Yukio.
Highlight of the serie:
BECK c'est avant tout l'histoire d'un jeune garçon passionné. L'histoire de son aventure humaine dans le milieu du rock underground japonais. De salles de classes en salles de concert, il forgera peu à peu sa personnalité, son être. Au grès de ses rencontres, il découvrira la chaleur humaine. A l´image de Yukio et de ses amis, BECK est une oeuvre touchante dans ce qu´elle a de résolument humain. Un manga pour tous les jeunes en quête d'identité.
If you liked it...you should like this:
Citations:
Pourquoi quand ça va mal, faut il toujours que les choses empirent ?
C'était hallucinant ! Le rock dans tous ses excès …
une guitare,c'est comme si l'humanité s'exprimait en six cordes
la technique n'est pas tout dans un groupe, ce qui compte avant tout c'est l'alchimie.
Enigma
D'où vient cette réplique ?
"Mais c'est la poussière de diamants ! Je ne savais pas qu'il avait appris à maîtriser cette technique ! "
[ Voir la réponse ]