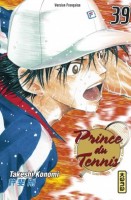 THE PRINCE OF TENNIS © 1998 by Takeshi Konomi / SHUEISHA Inc.
Quoi de mieux qu'une soirée à manger des yakiniku pour fêter sa progression en finale du championnat national ? Toutefois, des joueurs de Shitenhôji, Hyôtei, Higa et Rokkaku s'incrustent à la petite fête, qui se transforme en concours du plus gros mangeur !! Ne ratez pas cette incroyable bataille gastronomique !!!
Highlight of the serie:
Maîtrise du dessin et du découpage, rebondissements, ambiance ! Vous ne verrez plus jamais un match de tennis de la même façon !
Aussi connu sous:
網球王子
网球王子
테니스의 왕자
Prince of Tennis
The Prince of Tennis
Enigma
D'où vient cette réplique ?
Les anciens ennemis sont à l'affût. Cloud doit revenir au combat.
[ Voir la réponse ]