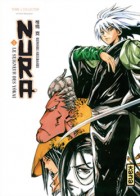 NURARIHYON NO MAGO © 2008 by Hiroshi Shiibashi / SHUEISHA Inc.
Price
6.85 €
Cote : 15.00 €
La cote correspond au prix de vente moyen constaté dans les boutiques d'occasion
Le sang des démons coule dans ses veines....
Nura Rikuo, 8 ans, vit dans une maison remplie de monstres avec son grand-père, Nurarihyon. Lorsque ce dernier, puissant démon à la tête de 10 000 yokaï, décide de le nommer à sa succession, il refuse catégoriquement. Même après s'être transformé malencontreusement en yokaï sur le coup de l'énervement. Quatre ans plus tard, il est toujours décidé à emprunter la voie d'un homme modèle, au grand désespoir de son grand-père…

Nura continuera-t-il à fuir sa véritable nature ou finira-t-il par l'accepter ? Et même s'il l'accepte, parviendra-t-il à s'imposer comme chef des yokaï ? Car tous les yokaï ne le trouvent pas digne de ce statut…
Cette édition collector comprend un magnifique coffret, ainsi qu'un poster et de bloc post-it à l'effigie de Nura.
Highlight of the serie:
Si vous aimez les shonen d'action, je crois que vous ne serez pas insensibles à ce manga, qui multiplie les allers-retours entre le monde des humains et le monde des démons. Un dessin aux multiples détails, une action trépidante, un manga avec lequel on ne s'ennuie pas !
Aussi connu sous:
Внук Нурарихёна
ぬらりひょんの孫
妖怪少爺
滑头鬼之孙
นูระหลานจอมภูติ
누라리횬의손자
Cucu Nurarihyon
Grandchild of Nurari Hyon
Grandchild of Nurarihyon
Grandson of Nurarihyon
Hậu duệ của Nurarihyon
Nura - Le Seigneur des Yokaïs
Nura: Rise of the Yokai Clan
NuraMago
Nurarihyon's Grandchild
Enigma
D'où vient cette réplique ?
Ces jours sont loin, mais je lui avais promis de l'emmener au-delà des nuages.
[ Voir la réponse ]