Event
Japan Expo Sud 5ème vague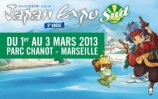 From 01 March To 03 March 2013 .


Japan Expo Sud 5ème vague
20130301T140000Z
20130301T150000Z
Japan Expo Sud 5ème vague - Marseille - Parc Chanot - 13
Description
Du 1er au 3 mars 2013 au Parc Chano à Marseille, Japan Expo Sud revient pour une 5e vague encore plus décoiffante !
Cette année, le festival voit les choses en grand et investit les palais 1,2 et 3 du Parc Chanot.

Des billets premium en quantité très limitée (50 seulement) seront mis en vente dès le 12 octobre 2012.
450 billets Zen seront également disponibles à cette date.

Plus d'informations prochainement !


Parc Chanot
Rond Point du Prado
13 008 Marseille.
Plan
Enigma
D'où vient cette réplique ?
Tenma-chan est donc bien la pire cuisinière au monde...
[ Voir la réponse ]
Copyrights © 2012 manga-news.com | All rights reserved
All pictures and illustrations are under © Copyright
Manga-News is an online portal, providing reviews and news about manga and dvd
Don't contact us about refund of manga / dvd, about scantrad, fansub and streaming.