Event
Commémoration de la catastrophe de Fukushima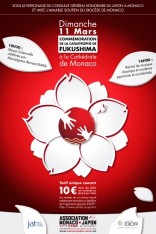 From 11 March To 11 March 2012 .


Commémoration de la catastrophe de
20120311T140000Z
20120311T150000Z
Commémoration de la catastrophe de Fukushima - Cathédrale de Monaco - N/C
Description
Cela fera très bientôt un an déjà, que se produisait, le 11 mars 2011, dans la région de Sendaï, l'inconcevable accumulation de trois catastrophes conjointes sans précédent, tsunami, séisme et explosion des réacteurs de la Centrale de Fukushima.

Dès lors l'Association Monaco-Japon, sous le patronage du Consulat Général Honoraire du Japon à Monaco, n'a eu de cesse que de multiplier les actions de solidarité en faveur des sinistrés japonais dépourvus de ressources. D'autres institutions et familles monégasques ainsi que de nombreux artistes se sont mobilisés pour cette noble cause.

Le devoir de soutien et de mémoire animent l'association depuis cet instant terrible. C'est pourquoi, afin que chacun se souvienne et parce que nos amis japonais méritent plus encore, en ces circonstances pénibles, que nous leur rendions hommage, Monaco-Japon a souhaité nous unir dans la prière universelle qui sera célébrée par Monseigneur Bernard BARSI, Archevêque de Monaco, dimanche 11 mars à 10h30, à l'occasion de la messe dominicale.

De même, l'ensemble formé par Mesdames Yukako CUSTO-HIRAMORI, Mariko CHAVINEAU-IZUMI, Mutsuko CUGLIETTA-UEMATSU, Sooyong KIM et Monsieur Marc ZORGNIOTTI, qui se produiront en concert, le même jour à 16h, toujours à la Cathédrale de Monaco, est la preuve irréfutable que l'amitié n'a pas de frontières, la musique restant un mode d'expression unanime.


Programme :
- 10H30 : Messe Solennelle célébrée par Monseigneur Bernard BARSI
- 16H00 : Récital de musique traditionnelle et moderne, japonaise et occidentale.
: 10€. Les recettes de ce concert seront entièrement reversées au bénéfice de l'organisme japonais JOICFP.


Cathédrale de Monaco
4, Rue Colonel Bellando De Castro
98000 MONACO
Plan
Enigma
D'où vient cette réplique ?
La regarder c'est perdre ! En parler c'est mourir …
[ Voir la réponse ]
Copyrights © 2012 manga-news.com | All rights reserved
All pictures and illustrations are under © Copyright
Manga-News is an online portal, providing reviews and news about manga and dvd
Don't contact us about refund of manga / dvd, about scantrad, fansub and streaming.