KIM Young Oh
김영오

Genre: Homme
Né(e): 1976
Origine: Coree
Kim Young Ho remporte en 1999, le prix du meilleur auteur de l'année décerné par le magazine "Booking". High school a d'ailleurs été prépublié dans ce magazine.
2004 - 2005 - Baljak / High School (발작) 12 vols
2005 - 2006 - Banya (폭주배달부 반야) 5 vols
2006 - 200X - Gui (귀) - 2 vols (en cours)

Rencontre avec Kim Young Oh, auteur de Banya et High school.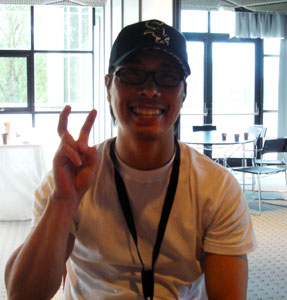 C'est à l'occasion de Japan Expo que nous avons eu le plaisir de rencontrer Kim, Young Oh, un jeune homme très sympathique qui a gentiment accepté de répondre à quelques questions.

Ainsi on apprend, qu'il a toujours aimé dessiner et qu'il s'est beaucoup entrainé lorsqu'il était jeune, il a fait quelques bd comme ca pour gagner un peu d'argent mais c''est en participant à un concours qu'il a remporté qu'il a pu devenir professionnel.

C'est quelqu'un qui aime beaucoup le sport, faire la fête, alors c'est toujours au dernier moment qu'il se met à sa planche de travail en général 3 ou 4 jour avant le bouclage. Là il se donne à fond et passe des nuits blanches. Il est tout de même aidé par deux assistants.

A l'inverse des personnages qu'il dessine, c'est une personne plutôt calme et qui se dit timide (moi je ne l'ai pas trouvé timide du tout!) et qui apprécie la lecture et la musique.

Lorsqu'on lui demande si il aimerait s'essayer à un autre style de manhwa, il répond que non il aime dessiner des séries ou l'action prime, dans les art martiaux ou bien l'héroic fantasy, c'est dans se registre qu'il s'épanoui. Comme il doit boucler assez vite son travail, il ne porte pas trop d'intérêt au détail et préfère se concentrer sur l'action elle même. D'ailleurs sont manga préféré est Vagabond de Takehiko Inoue.

Il lit aussi beaucoup de comics américain et s'en inspire pour lors de ses créations, ses série préférées sont Spawn et Hellboy, qu'il affectionne particulièrement car le personnage est un l'opposé d'un héros classique toujours mis en valeur et en général plutôt attirant, lui c'est tout le contraire.

Bien qu'il soit loin de France, il est toujours touché par les fans français qui se déplacent lors des conventions pour avoir une de ses dédicaces.

Il travaille actuellement sur une nouvelle série de fantaisie dont le tome 2 va bientôt sortir en Corée.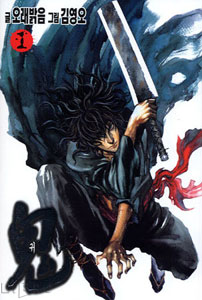 Copyrights © 2012 manga-news.com | All rights reserved
All pictures and illustrations are under © Copyright
Manga-News is an online portal, providing reviews and news about manga and dvd
Don't contact us about refund of manga / dvd, about scantrad, fansub and streaming.