OKAMA
OKAMA
Genre: Homme
Né(e): 25 mai 1974
Signe: Gémeaux
Groupe sanguin: O
Pseudo connu: UB / Vachicalist
Origine: Japon
Official Website: http://okama.nicomi.com/
Twitter: @okamarble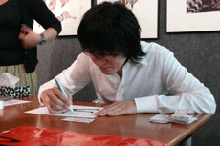 Okama est né le 25 mai 1974, il est principalement connu en tant que mangaka.

Il fait ses débuts dans le milieu du doujinshi, principalement avec des récits hentai, qu'il poursuit de manière professionnelle dés 1998. C'est à la fin de l'année 1999 qu'il commence à travailler sur son premier récit non érotique : Cat's world / Cat's World en 2 tomes parus en France chez Soleil.

Okama est un mangaka multitâches qui travaille régulièrement sur plusieurs projets en parallèle : manga , illustrations de magazines, character designer pour les studios d'animation (il a notamment travaillé sur les animés de Himawari, Le portrait de petite Cosette ou encore Gunbuster 2) sans pour autant laissé tomber le doujinshi...
Il a plusieurs livres d'illustrations a son actif : Okamax, Okamarble, et Getsumen to Heiki Miina respectivement paru chez Wani en 2001 et Media works en février et avril 2007.


Sa série la plus connue reste a ce jour CLOTH Road / CLOTH Road prépublié dans le Ultra Jump de Shueisha entre 2004 et 2011 et disponible en version française chez Kaze. En 2006 il sort un one shot intitulé Food Girls qui parait chez Enterbrain.


Actuellement il travaille sur un tout nouveau projet intitulé Tail Star qui est publié dans l'Ultra Jump depuis février 2012...

Enigma
D'où vient cette réplique ?
Pourquoi moi ? » fut la dernière pensée de Rune Balot, adolescente prostituée brûlée vive par un tueur en série…
[ Voir la réponse ]
Copyrights © 2012 manga-news.com | All rights reserved
All pictures and illustrations are under © Copyright
Manga-News is an online portal, providing reviews and news about manga and dvd
Don't contact us about refund of manga / dvd, about scantrad, fansub and streaming.