MORI Kaoru
森薫

Genre: Femme
Né(e): 18 septembre 1978 / Tôkyô
Signe: Vierge
Origine: Japon
Kaoru Mori est née le 18 septembre 1978. En 1997, elle commence à publier, sous le pseudonyme de Fumio Agata, des dôjinshi ayant notamment déjà pour thème central les domestiques. C'est à cette époque qu'elle crée Shirley, série de quelques chapitres nous invitant à suivre le quotidien d'une domestique de 13 ans, et dont nous reparlerons un peu plus tard, dans une partie qui lui sera consacrée.
Par la suite, elle est repérée par Enterbrain et entame en 2002 Emma, son premier manga en tant que professionnelle.
En février 2003, en même temps que la sortie du volume 2 d'Emma, Enterbrain décide de sortir un recueil regroupant une sélection des meilleurs titres de la mangaka à l'époque où elle faisait dans le dôjinshi. On y retrouve notamment les chapitres sur Shirley, qui donne son nom au one-shot. Notons que Shirley est également disponible en France, toujours aux éditions Kurokawa.
En 2004, Kaoru Mori travaille sur Violet Blossoms (Sumire no Hana), une histoire courte scénarisée par Satoshi Fukushima (auteur du manga Shônen Shôjo).
En 2006, la mangaka réalise deux nouveaux chapitres de Shirley pour un numéro spécial du Comic Beam.
Après la fin d'Emma en mars 2008, Kaoru Mori prend une pause de quelques mois puis entame, en novembre de la même année, une nouvelle série très prometteuse: Otoyomegatari, une série nous emmenant sur la route de la soie au dix-neuvième siècle.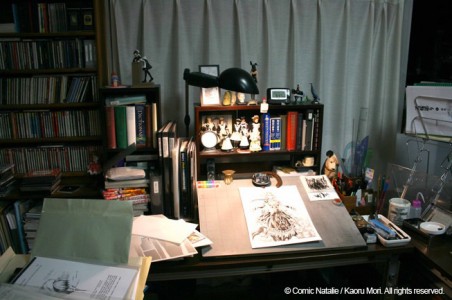 Copyrights © 2012 manga-news.com | All rights reserved
All pictures and illustrations are under © Copyright
Manga-News is an online portal, providing reviews and news about manga and dvd
Don't contact us about refund of manga / dvd, about scantrad, fansub and streaming.