HOJO Tsukasa / HÔJÔ Tsukasa
北条司

Il décide de tenter sa chance dans le manga alors qu'il est à l'université. Il envoie ainsi sa première histoire, Space Angel, au concours Tezuka, organisé par le magazine Shonen Jump (Shueisha), et gagne le second prix. Un succès qui lui permet de signer un contrat avec l'éditeur et de débuter sa carrière professionnelle en 1980 avec le titre Je suis un homme !.
L'année suivante, Hojo entame sa première série majeure : Cat's Eye. Hojo acquiert rapidement une renommée internationale et à peine deux ans plus tard, en 1983, la série est adaptée en dessin animé.
En 1985, Hojo lance City Hunter, et cette fois encore, le succès est au rendez-vous. Le manga est tellement populaire qu'il est rapidement adapté en dessin animé, et Ryo Saeba finit même par envahir les écrans de cinéma dans des films toujours aussi spectaculaires.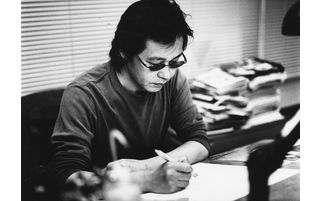 Après la fin de City Hunter, Hojo se concentre sur des histoires courtes pendant plusieurs années. Puis il créé ensuite F.Compo (1996) et pour finir Angel Heart, la nouvelle série dont Ryo Saeba est l'un des personnages principaux. Hojo est aussi un très bon professeur : un de ses anciens assistants n'est autre que Takehiko Inoue, le célèbre créateur de Slam Dunk et Vagabond.
Enigma
D'où vient cette réplique ?
Un jour à l'école, Ginta emprunte une porte magique qui le conduit vers MÄR Heaven, le monde de ses rêves.
[ Voir la réponse ]
Copyrights © 2012 manga-news.com | All rights reserved
All pictures and illustrations are under © Copyright
Manga-News is an online portal, providing reviews and news about manga and dvd
Don't contact us about refund of manga / dvd, about scantrad, fansub and streaming.