ASADA Yukai
浅田有皆

Genre: Homme
Né(e): Kôenji (Tôkyô)
Groupe sanguin: O
Origine: Japon
Twitter: @yukai_a
Yukai Asada, à ses débuts, illustre en 2005 M.C. Law une série en 3 tomes pour Shinchosha, résolument tourné vers la jeunesse actuelle, mettant en scène un GTO du barreau.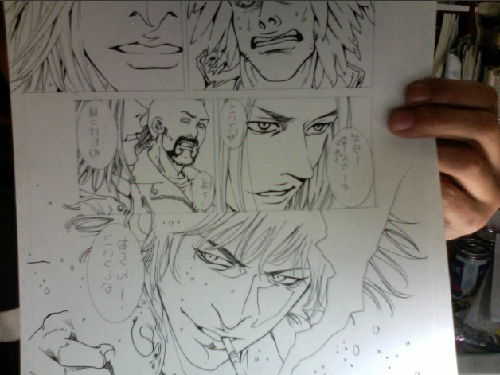 En 2008, c'est donc pour ce même éditeur qu'il s'empare du scénario en plus du dessin et livre son oeuvre majeure à ce jour : Woodstock (ウッドストック). L'auteur y place toute sa culture et ses solides connaissances musicales soutenues par un dessin mature, élégant et fin, fourmillant de détails et de clins d'oeil, donnant à son propos un cadre très réaliste qui joue pleinement dans la force de ses planches.

Yukai Asada rejoint en 2010 le catalogue Kôdansha, au sein du Young Magazine, avec Kurohyô - Ryû ga Gotoku Shinshô (クロヒョウ 龍が如く新章), spin-of d'un jeu vidéo Yakuza en 3 tomes.

A l'heure actuelle, en parallèle à Woodstock il vient d'entamer, Tribes, une série mélange de Rock et de survival horror chez Nihon Bungeisha, dans le magazine ...

En France ce sont les éditions Glénat qui nous font découvrir son travail en mai 2013, avec Woodstock.

Passionné de musique rock et punk, il s'illustre régulièrement via son blog Myspace par ses propres compositions musicales.
Copyrights © 2012 manga-news.com | All rights reserved
All pictures and illustrations are under © Copyright
Manga-News is an online portal, providing reviews and news about manga and dvd
Don't contact us about refund of manga / dvd, about scantrad, fansub and streaming.