News

Japon

Un Spin-off pour QP Soul of Violence

C'est dans le Play Comic de mars, des éditions Akita Shoten, en vente depuis samedi, qu'on apprend qu'un spin-off de Qp - Soul of Violence va voir le jour. Celui-ci aura pour titre QP Soul of Violence - Gaiden - Ryô Azuma et sera l'adaptation de la série drama diffusée en 2011. Au dessin on retrouvera Ksk Imamura et au scénario Hiroshi Takahashi.

Le spin-off débutera dans le numéro de juin, qui sera en vente le 25 avril. Mais avant cela, il aura droit à un prologue de deux chapitres, pour un total de 83 pages. Le premier chapitre sera publié dans le numéro d'avril, qui sera en vente le 25 février, quant au second, il sera publié dans le numéro de mai, en vente le 25 mars. A noter que ces deux chapitres seront publiés dans un petit livre au format B5.

Azuma Ryô est un jeune chef yakuza à la tête du groupe Tenrokai. A ses cotés on retrouve entre autre ses deux amis Tom et Jerry ainsi que Misaki, un ancien boxeur. Ce dernier est mis sous la tutelle d'Hiko, l'ancien de la bande. La Tenrokai devient de plus en plus puissant. Et tandis que le groupe Furuiwa mené par Hachiya Kanemitsu se contente d'observer la situation, le groupe Yokomizo, lui, commence à s'agiter. D'autant plus que certains en son sein, comme Kitajima, profiteraient bien de l'ambiance explosive du moment pour améliorer leur situation personnelle. L'assassinat d'Hiko par un tueur mystérieux va finir de mettre le feu aux poudres...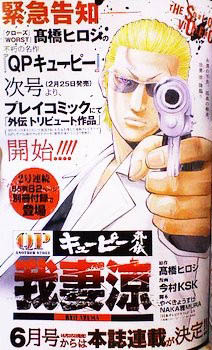 Qp - Soul of Violence est un manga en huit tomes d'Hiroshi Takahashi, qui fût publié dans le magazine Young King des éditions Shônen Gahoôsha entre 1999 et 2001. Le tirage total des huit tomes est de plus de huit millions. En 2004, un spin-off fût publié dans le magazine Young King Ours des éditions Shônen Gahôsha. Enfin, comme dit plus haut, la série fût adaptée en une série drama de 12 épisodes en 2011.

Manga dans lequel on suit Kotori (Surnom : Qp), un jeune garçon. Au collège, il lui arrivait souvent des embrouilles. Afin de les éviter, il décide d'aller travailler dans une station service. Kotori va se faire de nouveaux amis, mais il va aussi devoir faire face à d'anciens ennemis...


Enigma
D'où vient cette réplique ?
... Si je suis tellement heureuse c'est parce que... quoi qu'il arrive, je n'oublie jamais le simple bonheur d'être en vie.
[ Voir la réponse ]